10138 Whalley Boulevard: Mixed-Use Development – Approved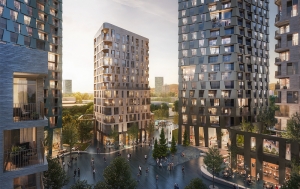 Real estate development company Rize Alliance Properties received approval from Surrey City Council for their one million square feet mixed-use development in Surrey City Centre. The Passages, is designed by UK Architect Alison Brooks Architects.
The project site is in the heart of the emerging Surrey City Centre, where there is a drive towards a high-density, transit-orientated and walkable downtown core. The project was designed to provide free-flowing public space with four landscaped courtyards and multiple pedestrian connections throughout the site into the surrounding neighbourhood.
The Passages consists of three high-rise residential towers (22-storey, 31-storey and 39-storey), two 13-storey mid-rise market rental residential towers, one 6-storey apartment building and ground-level retail spaces including a café and daycare.
There project aspires to create an exceptional urban condition by focussing on freedom of movement and public space accessed by a series of passages, leading to an open courtyard at its centre. This is an atypical urban
strategy in North America, where dense city blocks are often enclosed by podiums. Conversely, the urban design of The Passages is a plan with an activated heart, bringing movement through the site and offering a wide range of activities for residents and neighbours to use and enjoy. An amenity for the city.
There are three building typologies proposed across the site: Tower, mid-rise and low-rise. The variety of typologies and scale contribute to the unique character of the development with façade variety, texture and family structures. The development will add 954 market residential units; 172 market rental residential units and a total of 1,683 square metres (18,116 sq.ft.) of commercial space. 40% of the rental will be family-oriented with a 4,400 sq.ft on-site childcare and 70,000 sq.ft of public outdoor space.
Project Data
Site Area                            16.466 sqm (177,238 sq ft)
GFA                                     89,943 sqm (968,143 sq ft)
Max Height/Storeys         119.85 ft. (39 Storeys)
Units                                   1126 Homes
Amenity                              2,738 sqm (29,467 sq ft)
Including                            Gym, co-working, sky-bar, media lounge, bike workshop, dog wash
Retail/Commercial            1,707 sqm (18,379 sq ft)
Public Outdoor Amenity   6,466 sqm (69,600 sq ft)
Project Team
Developer                           Rize Alliance Properties
Lead Architect                   Alison Brooks Architects
Architect of Record           IBI Group