Rize Makes Financial Contribution to the Community Response Fund, Encourages Others to Do Same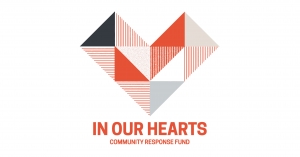 Rize announced today its role as a Champion Challenger Brand alongside a small group of companies, individuals and non-profits who are seeding the Community Response Fund as part of the "In Our Hearts" campaign. The fund was created by the Vancouver Foundation along with Vancity, United Way Lower Mainland and the City of Vancouver to provide rapid relief and build long-term resiliency among communities and organizations hit hardest by the COVID-19 pandemic.
In addition to its seed donation, Rize is challenging its staff, partners, consultants, trade suppliers and friends to donate and will match donations up to a total of $25,000.
"A vibrant city includes everyone. This pandemic has stretched the already stressed systems that look after our city's most vulnerable and has hit hard the people and organizations that give our city its distinct character," says Steven Cox, VP Brand & Design at Rize. "The Community Response Fund provides immediate relief to organizations struggling during this pandemic as well as long-term support to enable organizations to recover and thrive moving forward."
Since its launch on March 18, the Community Response Fund has provided operating support to dozens of charities that are helping individuals and communities impacted by COVID-19. The fund has now been expanded to include arts, culture and other community programming that are not considered frontline human services — but that are just as important to the social fabric that ties our community together.
"As the earliest champion of the In Our Hearts campaign, Rize has stepped up to support our community in an inspiring way," said Kevin McCort, CEO of Vancouver Foundation. "And by calling on others in the development industry to do the same, Rize exemplifies the very best of caring and commitment."
"During this time, many of us are asking how we can help," continued Will Lin, CEO of Rize. "We felt compelled to donate, but more than that, we want to use this opportunity to spur on a broader generosity within our community and shine a light on many of the smaller organizations that are desperately in need of additional resources to continue making a difference in our city."
For more information or to donate to the fund visit vancouverfoundation.ca/covid19.
For more information about how to participate in the In Our Hearts campaign, visit: