Public Art Screen Shines Light on Local Artists in Mount Pleasant
Vancouver, BC; December 10, 2019 – Today, Rize Alliance is celebrating the launch of the Mount Pleasant Community Art Screen (MPCAS). The MPCAS is a four-by-seven metre outdoor urban screen located on the second-storey facade of Rize's new development, The Independent, at Broadway and Kingsway in Vancouver.
"We're proud to have worked with the grunt gallery to bring this project to the Mount Pleasant community," said Steven Cox, Head of Creative, Rize Alliance. "As a developer committed to building meaningful and inspiring places to live and work, the addition of this innovative piece of public artwork to The Independent makes perfect sense."
The screen will exclusively feature visual works of art for and about the people who live, work and pass through the Mount Pleasant neighbourhood.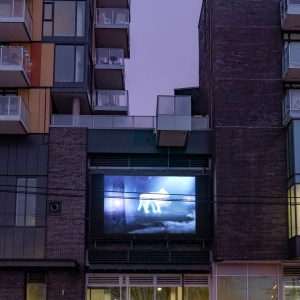 Located on The Independent residential tower, the Rize Alliance funded screen will display a rotating mix of locally produced art
"Working across the development/artist divide is never easy but we realize that the only way we are going to solve the mounting housing problems in the art community is to reach across the divide," said Glenn Alteen, Director, grunt gallery. "I hope projects like this one represent positive steps in that direction."
The funding for the $538,000 MPCAS was provided by the developers, Rize-Ayalaland, as part of their community amenity contribution. Rize-Ayalaland also provided an additional $4.5 million in community amenity contributions to support arts organizations in Mount Pleasant and Vancouver. This includes providing $2.3 million to C-Space & VIVO Media Arts, $1.5 million to Western Front, $400,000 to grunt gallery, and $300,000 to Arts Factory.
The Independent comprises 258 residential units as well as retail frontages along Kingsway, Broadway and Watson Street.
Artists interested in having their work appear on the screen are invited to apply via mpcas.ca.